QA/QC Inspector (API, NACE, CWI)
---
DUTIES / RESPONSIBILITIES:
Prepare Scope of Work for services as required
Write and interpret technical reports
Prepare Quality Control (QC) documentation
Perform material verification (base metal, filler metal)
Perform verification of fit up and dimensional checks
Perform visual inspections of completed weld(s)
Review of NDE test results
Raise non-conformance if welding is not conducted according to required standards or if an error is made
Review client's data sheets and procedures with respect to paint and coating prior to commencement of job
Inspect compressor, paint pump and any other relevant equipment prior to blasting and painting to ensure its fitness for use
Conduct Atmospheric checks to ensure acceptable temperature for works to be carried out
Visually inspect surface according to NACE standards prior to blasting
Visually inspect surface upon completion of painting, conduct Wet Film Thickness Measurements upon client's request on Intermediate and Top Coats
Conduct Dry Film Thickness Measurements when paint is cured to ensure compliance with client's procedures
DESIRED QUALIFICATIONS:
Qualification in any of the following inspection certification API 510, 570, CWI, NACE I/II or equivalent
Familiarity with Inspection and Equipment Codes eg. ANSI, ASME, AWS, BS EN etc.
Communicate effectively to all relevant stakeholders verbally and in writing
Individuals with the appropriate combination of skills, qualifications and experience are invited to apply
---
Trainee Accounts Officer
---
DUTIES / RESPONSIBILITIES: The Trainee Accounts Officer is responsible for performing a full range of accounting duties including information verification, bookkeeping, billing and collections activities inclusive of: ​
Receiving purchase orders and verifying information in relation to quotation, making necessary edits and attach documents together to be filed
Updating financial records
Maintaining filing system for quotations, invoices, purchase orders and other financial documents
Ensuring the confidentiality and security of all financial files
Receiving and sending all company email
Responding to queries concerning quotations and invoices
Receiving payments for jobs completed
Following up on outstanding purchase orders and quotations
Preparing rate sheets, credit notes and other documentation upon request from client
DESIRED QUALIFICATIONS:
Certificate or diploma in the accounting field
General knowledge of accounting practices and procedures
Knowledge of office administration and procedures
Knowledge of general bookkeeping procedures
Proficient in relevant computer applications
---
Receptionist
---
DUTIES / RESPONSIBILITIES:
Effectively and efficiently manage all incoming and outgoing phone calls

Answers, screens and forwards all incoming phone calls

Responds to inquiries

Update and maintain contacts/supplier's database

Notifies company personnel of visitor arrivals

Receive incoming correspondence and dispatch accordingly

Greet and assist visitors

Maintains security by following procedures, monitoring various logbooks, and issuing visitor badges
DESIRED QUALIFICATIONS:
Minimum five (5) CXC/GCE O' levels (including Math and English)

Certificate in Customer Service would be an asset

Knowledge of office administration and procedures

Proficient in relevant computer applications

A minimum of two (2) years experience in a related field
---
Asset Integrity Engineer (API 580 / RBI Engineer)
---
DUTIES / RESPONSIBILITIES
Provide support for managing and assuring the safe, reliable and sustainable integrity of all pressure equipment.
Provide technical support for all Inspection and Pressure Equipment Integrity Management (PEIM) systems.
Managing inspection and monitoring activities.
DESIRED QUALIFICATIONS
Mechanical Engineering Bachelor's Degree.
Mandatory API 580 – Risk based Inspection Certification
Combination of 2 following certifications – API 510, API 570, API 653
EXPERIENCE
8 – 10 years Oil & Gas Industry Experience
---
Asset Integrity Co-ordinator
---
DUTIES / RESPONSIBILITY
Provide support for ensuring all pressure equipment and structural integrity is achieved.
Develop inspection scope of work packages.
Provide support to the Engineers.
Provide QA/QC support to maintenance and turnaround team.
Maintain the inspection and monitoring records system
DESIRED QUALIFICATIONS
Mechanical Engineering Diploma
Combination of 2 of the following certifications – API 510, API 570, API 580, API 653, NACE Coating Inspector Program Level II
ASNT SNT-TC-1A Level II Eddy Current, PT, UT & MPI
EXPERIENCE
8 – 10 years Oil & Gas Industry Experience
---
---
​
FOR SUBMISSION OF CV's:
​
​
CLOSING DATE:
31st Jan, 2021
How do know how much CBD to take?
---
Each person's endocannabinoid system works differently and reacts differently. There is no straight, solid scientific dosage that states how much CBD you should be taking at any one time. Always start off with a small dose and work your way up to a larger dose. Your weight determines the best quantity as well as the quality of the CBD oil. Please view the chart showing body weight and dosage recommendations.
---
Are the products tested on animals?
---
No animals has been harmed in any way by any of the products that we sell. We are 100% for animal welfare and preservation of the worlds natural resources. Green Skincare, because we don't have a planet B !
---
How can I trust the quality of the CBD?
---
All of the products have undergone rigorous testing in a laboratory to determine their content of CBD, THC, pesticides, residual solvents, bacteria and any other nasties that may be present in the cannabis crop. This certificate is called a COA and is available for each and every product. The products are made from Full-spectrum CBD, also known as "whole plant CBD" because the nutrients are extracted from the entire plant. The whole plants contains hundreds of terpenes, cannabinoids, antioxidants, vitamins, and nutrients. Full-spectrum is scientifically proven to provide more nutrients and benefits than CBD isolate.
---
What is CBD?
---
CBD (Cannabidiol) is a chemical compound that comes from the cannabis Sativa plant. There are at least 113 unique compounds found in cannabis known as cannabinoids, of which, CBD is the second most abundant. Unlike its cousin, delta-9-tetrahydrocannabinol (THC), which is the major active ingredient in marijuana, CBD is not psychoactive. CBD oil used has been through an extraction process to remove THC.​Cannabinoids can be either consumed (phyto-cannabinoids) or they are produced by the our bodies (endocannabinoid). These chemical compounds interact with the body's central regulatory system. This system is known to maintain a condition of balance or equilibrium within our internal environment and affect bodily processes such as appetite, mood, sleep and immune system functions.
---
What is the Human Endocannabanoid System and how does CBD work?
---
The Human Endocannabinoid System​ CBD and THC fit like a lock and key into existing human receptor cells. These receptors are part of the endo-cannbinoid system which impact physiological processes affecting pain modulation, memory and appetite plus anti-inflammatory effects and other immune system responses. The endocannabinoid system comprises of two types of receptors, CB1 and CB2, which serves distinct functions in human health and well-being.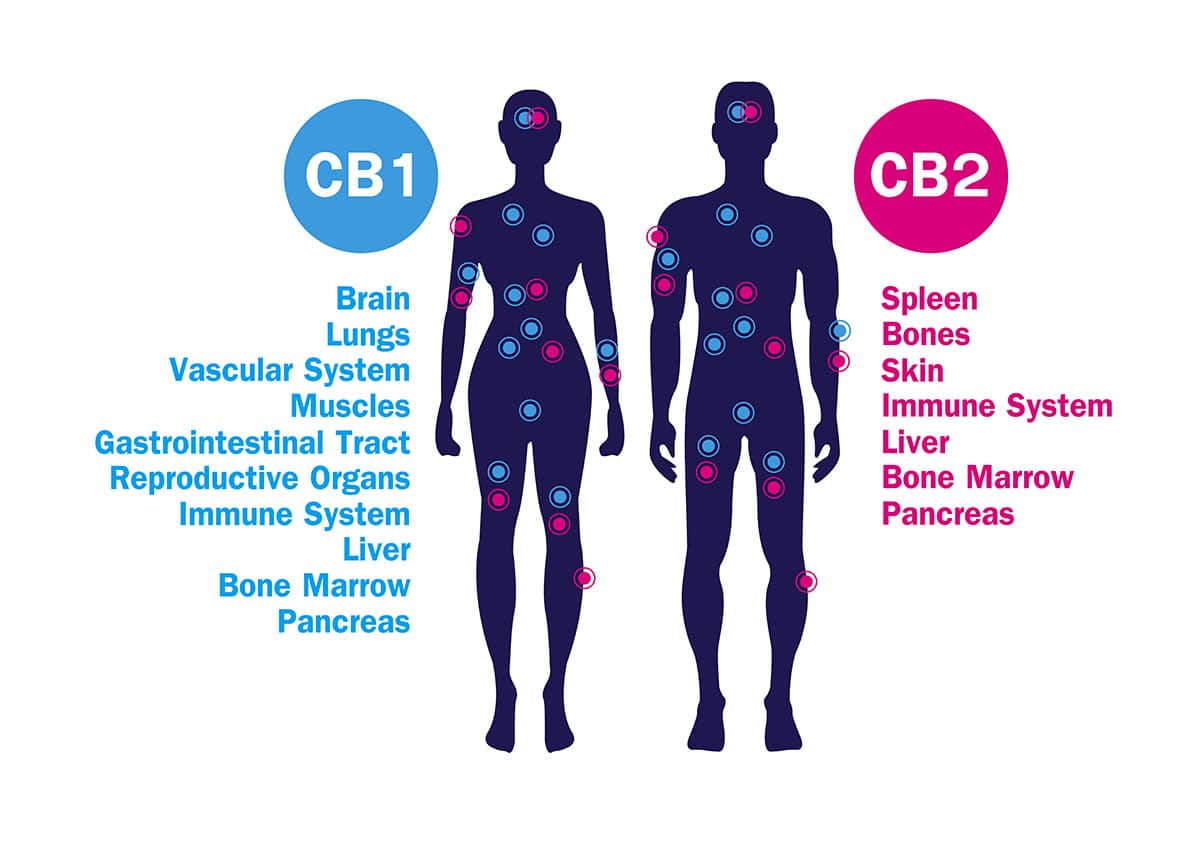 CB1 receptors are primarily found in the brain and central nervous system, and to a lesser extent in other tissues. CB2 receptors are mostly in the peripheral organs especially cells associated with the immune system.
---
Is CBD Safe?
---
Absolutely. CBD oil that is produced using hemp plants is 100% legal to buy and consume in the UK. The law, passed in January 2017, states that you can buy and use CBD oil derived from hemp if it contains less than 0.2% THC and which is then purified to contain less than 1mg per dose.
---
Is CBD legal in the UK?
---
CBD is completely legal as long as the product contains less than 0.02% THC or below 1mg per container. It is no longer a controlled substance and no restrictions on the way its consumed or utilised. The introduction of the Novel food Licence in March 2021, is good news for the industry and will ensure that all consumers only consume products that meet the strungent requirements og the Novel Food Licence.
---
---
---
---
FOR SUBMISSION OF CV's:
​
CLOSING DATE:
31st Jan, 2021